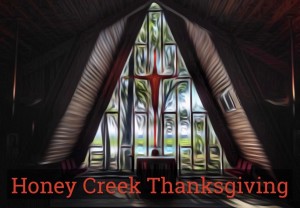 Honey Creek will host Thanksgiving lunch November 22nd at noon in Reese Dining Hall.
Mealtime is nearly a sacrament at Honey Creek, so let us serve your family and friends this year. We'll do the cooking and cleaning, you do the quality time together.
COST: $26 per person, $13 for children 8 and under.
If you want to stay the night, lodging is available too. Lodge One room $91, Lodge Two room $80, Chapin or Hunt Cottage $185