Our history starts with Camp Reese
Named during his episcopate in honor of Bishop F. F. Reese, Camp Reese, is located on East Beach on St. Simon's Island a few hundred yards from the rolling Atlantic Ocean. The camp ministry grew from 14 youth (for two weeks) in 1924 with the Rev. W. A. Jonnard of St. John's, Savannah, as their leader, to an enrollment of 457 youths and adults in the summer of 1944. For many years the name of Mrs. J. W. Griffeth of Christ Church, Savannah, diocesan secretary of religious education, was synonymous with that of Camp Reese. Throughout its history, distinguished lay leaders, priests, and bishops have assisted as program leaders and camp counselors.
A recreational hall, named as a memorial to Lt. Carl Schuessler, U. S. Marine, who lost his life in the Southwest Pacific after serving seven years as a camp counselor, and a chapel honoring Bishop Barnwell were among the notable buildings.
From the scant beginning when Father Jonnard and his handful of campers rented a beach hotel the camp grew and so contributed to Church life that it had been described as "the powerhouse of the diocese." The first $1,000 for camp improvements was raised by the youth of the diocese. Mrs. Charles Chapin, a winter resident of Thomasville and a friend of Bishop Reese, gave $7,500 and the main building was named Chapin Hall in her honor.
In 1933 the chancel guild of St. John's, Savannah, built Jonnard Cottage; the next year people of Christ Church, Savannah, built a cottage named in honor of their rector, the Rev. David Cady Wright, D.D.; and in time came the Augusta Cottage, built through effort of the Augusta parishes; the Aiken Cottage, named in honor of Frank Aiken of Brunswick; and a servants' house built by diocesan youth and named in honor of Deaconess Alexander.
Due to residential encroachment and safety concerns of rip tides, the beachfront property of Camp Reese was sold in 1954.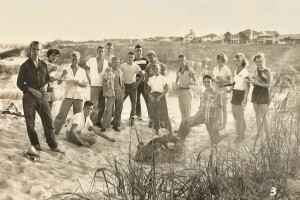 In 1955 a young architect named Blake Ellis of Valdosta, fresh out of Georgia Tech, was approached by bishop Albert Stuart to layout a master plan and design the buildings for a new camp and conference center on the banks of Honey Creek in Camden County. Many names of buildings from the former Camp Reese were honored at Honey Creek.
The first building was the Chapel of Our Savior built in 1959, followed by the Reese Dining Hall, Schuessler and Griffeth dormitories. Cullum dormitory was built in honor of Henry and Natalie Cullum of Saint Paul's Church in Augusta for their support in funding the construction of buildings and infrastructure of the new campus.
In a short time, Chapin Cottage was built as staff housing, along with Jonnard Cottage, Martha's Cottage built by the diocesan ECW, and a pool were completed in time for springtime retreats for adults and the first summer camp session in 1960. The Department of Christian Education of the Diocese planned programs which were participated in by 622 men, women, boys and girls.
It was an invaluable experience in Christian living and Christian education. That the first year of use of the new Center proved to be such a smooth operation with such fine results was due to the careful planning and hard work of the teaching staffs and permanent staff, and above all to the devotion of Mr. and Mrs. Sherman Hammatt, the first resident Custodians.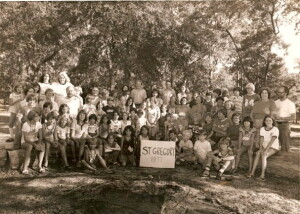 In the 1970's, Reese Dining Hall and kitchen were expanded to allow for more indoor gathering space. later the former dining hall was renamed Bishops Hall in honor of all past, current, and future bishops. the 1970's also brought a new and larger meeting space named in honor of Bishop Albert Stuart. Stuart Hall was later joined by a wing of twenty motel-type lodge rooms, now known as Lodge One.
In 1977 a new manager's residence was built, and the first residents were Bill and Mae Allen. The new manager's residence was later named Hunt Cottage in honor of Director Hunt who served during the 1980's.
The 1980's brought air conditioning to the dormitories, and the Howe arts and crafts pavilion named for a young camper from St. Michael's in Savannah. As the decade was completing, a new outdoor chapel was built and dedicated in honor of the late wife of the founding architect, Blake Ellis. Jackie Ellis was a beloved spouse, mother, friend, and volunteer for many ministries at Honey Creek.
In the early days of the 1990's, under the leadership of Fr. Charles Hay, a successful environmental education program began, and a new campus office was built, along with twenty additional lodge rooms. Each wing of Lodge Two (and Lodge One) are named for all former bishops of the Episcopal Diocese of Georgia.
In the early 2000's, a former 1950's era cottage was gifted to Honey Creek and was dedicated as Mary's Cottage. In fall of 2013, Martha's Cottage was renovated and rededicated as Guice Hall in honor of Pam Guice and her family. Pam served as Summer Camp Director of over forty years.